Handmade, personally designed jewelry gives one an opportunity to make a jewelry which suits their personal style. Whether you using beads, elastic, wire wrapping or any other material, to make these kind of jewelries you require some special tools. These tools makes the jewelry making much easier and faster. By using the proper tools you can make sturdy jewelries which will last for long.
So if you are planning to start making handmade jewelry there are some essential tools that you will need. These tools can be classified in broad categories which include; cutters, pliers, wire wrap tools, measuring tools, beading tools and other tools which we can refer to as miscellaneous.
Under each of the broad categories you will find so many tools listed. It doesn't mean you have to get all these tools. This is because we have tools that serve multiple functions. Buying a tool that is multipurpose will help you in saving money. Let us look at the top five jewelry-making tools that you will need to get started.
Wire cutter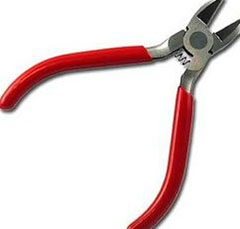 This tool is used to cut wires that are used in beading and those wrapped to create jewelry, it also allow you, cut headpins and eye pins, snip chain and remove rough edges. When purchasing a wire cutter make sure you choose a cutter meant for jewelry and one that has handle size appropriate for your hands.
Bent nose pliers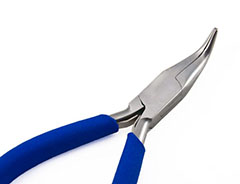 This type of pliers is used to, grasp wires as you wrap or string it, to close jump rings and untangle chain. It is advisable to choose a bent nose plier that come to a relative point at the nose and also a pliers that has a handle comfortable for your hand.
Round nose pliers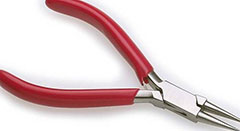 These pliers are round to help you in making simple perfect loops and any other rounded wire elements. They help in making consistent sized loops. You can also use them for making eye pins and making jump rings. Choose a pliers that open and close easily.
Crimping tool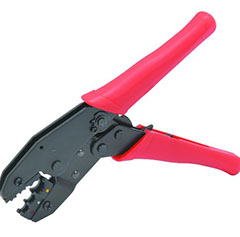 This is a kind of a plier that is used for crimping beads. It is used together with the crimp bead and crimp tubes to keep beads in position. Get a crimping tool that is appropriate size for the crimps you are working with.
Bead board
A bead board well known as bead tray gives you a work surface to keep your beads, findings, jump rings and other elements as you work. It also allows you to lay out designs before getting started. They also offer measuring channels making it easy for you to create jewelry to the exact length you seek.
With these five tools your jewelry making will be fun and easy. You can enjoy making jewelry for sale, for friends or for yourself. You can opt to buy these tools as a whole kit or you would buy one by one. You can buy them online or from the suppliers' shops. After getting the tools make sure you use each properly to make highest quality jewelry.